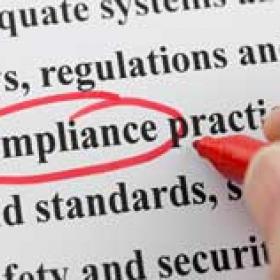 Under the Resource Conservation and Recovery Act, businesses that generate hazardous waste are liable from "cradle to grave." Meaning, even after the chemical waste disposal company you hire takes your waste off-site, you are still responsible if the disposal is mishandled -- intentionally or unintentionally.
A waste generator's risk can increase or decrease based on how and where the waste is stored while on-site, the method of shipping and the ultimate disposal. If at any point along the way laws and regulations are broken, or the waste is mishandled, you are held liable.
It is imperative that waste be managed properly while on a generator's site. The generator is responsible for storing the waste in designated areas, labeling waste containers and keeping accurate records of all generated waste. Large quantity waste generators have 90 days from when the waste is first generated to the time it must be shipped off-site to a chemical waste disposal company. Exceeding the 90-day limit can result in fines.
Waste must be properly manifested and shipped on regulated transporters to permitted facilities. A generator can minimize liability by hiring audited and approved chemical disposal services companies. Also, minimizing handoffs between companies for transportation and disposal by using a chemical waste disposal provider who has their own transportation and disposal facilities further limits risk.
Hazardous waste is dangerous to transport, which is why it is important to evaluate chemical waste disposal companies that are expert trained and thoroughly experienced. Contracting a chemical disposal services company is integral to minimize downtime and increase productivity at your business. Clean Harbors offers a distinct chemical disposal services advantage in that it owns a transportation fleet and the most permitted hazardous waste facilities in North America.
Clean Harbors' chemical disposal services team is equipped with everything you need to dispose of and transport your hazardous waste safely and properly. By choosing a one-stop shop company like Clean Harbors, you can rest assured that your chemical waste will be handled properly from start to finish.
If your company is in need of chemical disposal services, learn more about our offerings from the links below.
View our chemical waste disposal video
Learn about chemical waste disposal
Visit the EPA Resource Conservation and Recovery Act (RCRA) websit